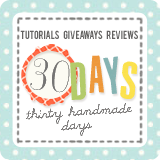 Hi! I'm Mique from 30days.  My little online spot  has craft tutorials, giveaways, guest posts and whatever else I feel in the mood for.   I also co-host a craft show in the San Diego area with my sister called the Queen Bee Market.
I was  flattered that Melissa asked me to guest post.   I absolutely love and admire her style in everything she does….and then she asked me to share my favorite DIY moment. Hmmmm.   Most DIY moments in my life are given away. I'm a DIY gift giver. So I thought about it and thought about it some more and realized that my favorite DIY gifts have been to my nephew.  I am sorry about the poor image quality- I took pictures and gave the presents away (no retakes!).
When Owen was born I made him this little embroidered cowboy. I found a coloring book page online and traced it, added his info, crayon tinted it and stitched it.  I added a few buttons for a little pop.  The best thing about embroidery?  You can take any image you want and embroider it.  There is inspiration everywhere.  Plus anyone can do it.  I've sketched a few ideas myself but most often I search Google for coloring book images.   I then print them directly onto fabric and then stitch over them.
And for O's first birthday I gave him a fabric book of his first year.   It was my labor of love to my only nephew (at the time) on my side of the family.  This was my inspiration and I tailored it to my nephew's first year.
I gave these presents away awhile ago. And unfortunately I learned the hard way that although the first year book seemed sturdy when I gave it away, I didn't think about how a toddler would be chewing on it. AND it wasn't water proof. Yep, you guessed it, it didn't last. If you want to make a project similar to the first year book, I would suggest sewing vinyl over the top of each page or waterproofing the pages.
I think what I've learned most about DIY projects over the years is that they can mean a lot while costing a little.  Yes there was a time commitment involved, but the end products were completely worth the effort.